Free Wallpapers
Get my current wallpapers
Wednesday 05 May 2010 at 05:43 am - Freebies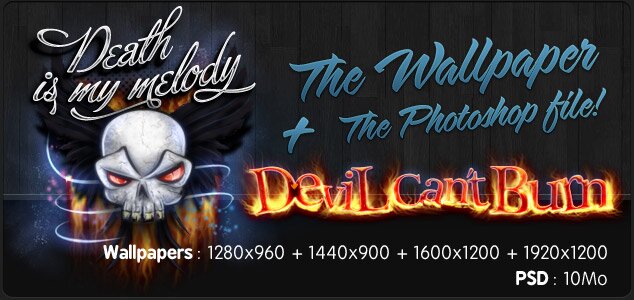 Hi Humans! For my first "freebies" stuff, I offer my current wallpaper under various sizes to you. You get the PSD too.
The first one...
Indeed, since it is my first "freebies", I wanted to bring something of me to you. It is thus my wallpaper which is the gift!
You can make the changes that you will like it, since I included in the ZIP, the PSD of the wallpaper.
Size of wallpapers
You get 4 sizes of the wallpaper.
1280x960px
1440x900px
1600x1200px
1920x1200px
Well, this is just a begining!
Come back everyday... i'll upload free stuff or template to buy everyday ;)...
Good download to you !
Devilcantburn.
Downloaded 2090 times